Alphabe-Thursday P is for Portrait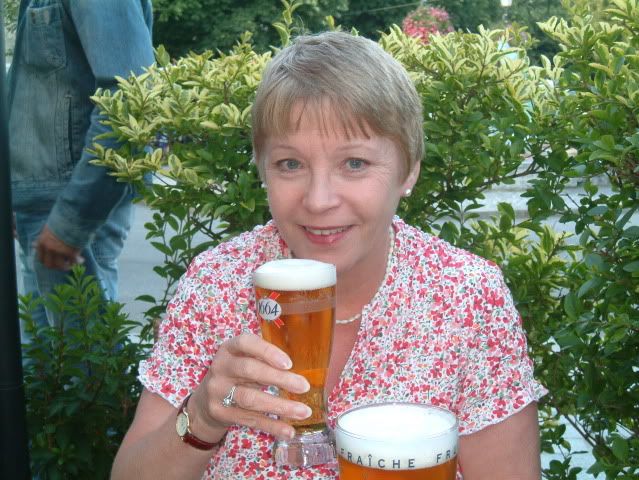 Just look at that face! What do you see? Old lady? Drunkard?
Look closely now. Can you see those lines around the eyes? Crow's feet some call them. Laughter lines if you're being polite. She has her father's eyes – blue with a hint of green.
Look at her hands. This characteristic comes from her mother's side of the family. You would see that her brother has the same lined skin that gives away a life of hard work.
The ring is special. The pearl has come all the way from Hong Kong & was originally in a tie pin that her father had been given. It had been a gift from her other brother who visited from New Zealand. Her father didn't wear ornaments like that so it spent quite a few years in a drawer. Her mother had it made into this ring to celebrate her 29th birthday. Not a special birthday but it was to be the last Mother shared with her.
The writing around the glasses tells you this picture was not taken in England. It was in fact Honfleur in August 2007. It was lovely holiday after a very successful school year.
Time has passed since this picture. The hair is longer, a little greyer. The face is a little fuller but hopefully, the smile is still the same!
Who is she?
*
*
*
*
*
She is  —ME!
This post was originally for the Gallery Week  9 over at  Sticky Fingers. The theme for the week  Portrait. It is now being posted at Miss Matlock's class for Alphabe-Thursday!