Tales from the Head's Office #6
Having retired as a primary head teacher & following the suggestion
of my dear friend Paula this post is part of an occasional series about the highs & lows of my headship career. It spanned 13 years & included 3 schools. I hope you enjoy my tales!
*****************************************************************
Mr. Men

This is my Mr.Men diary. I'm very sad about it. You see because it is an academic diary, it has nearly finished its job of keeping me up-to-date this year. The Mr. Men have been a big part of my career as a headteacher!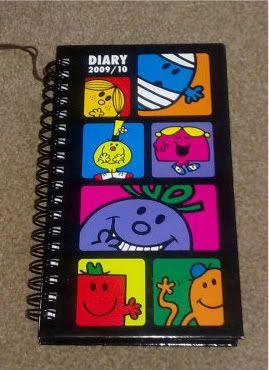 The 'My Mr Men Library' sat very proudly in my office where the children would love to come in & choose a book to read. I always knew when we had been visited because the books were out of order & the words were wiggly down the side!
My reason for having the full set was that I used them occasionally for assemblies. They were the right length to read & always (well almost always) had a good moral. The children liked me to use different voices. I always used Mr.Noisy when the new children came for a visit before we broke up for the summer. They jumped when he went into each of the shops but they knew about being quiet in assembly!
The only time they let me down was when we had an inspection & I had forgotten I was doing assembly, grabbed a book & started to read. Usually you could gather the moral as you read but for the life of me I couldn't get it with Mr.Chatty. What was I going to say at the end? What was this book telling us? I think I blagged my way out of it by saying we must never be rude by chatting but it was very weak & the inspector knew it!
The Mr Men became my signature.If asked to tell a visitor about me, the children would say she likes the Mr.Men.
How would your children remember their head teacher. Are they someone who is a bit silly?