Winnie & Me!
This is a very cheeky title for my Jenny Matlock Alphabe-Thursday 'W' post!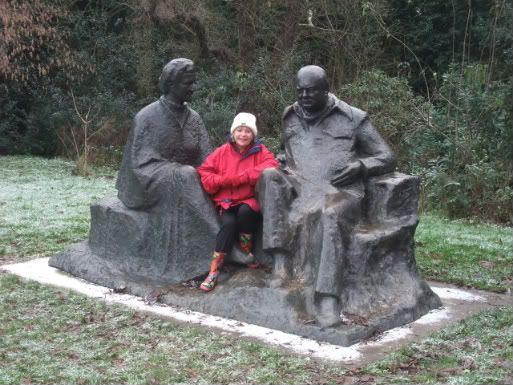 This bronze statue was made by Oscar Nemon who said in 1953 that Winston Churchill was
'one of the most remarkable personalities of all time'
It is placed in the grounds of Chartwell the family home of Winston & Clementine Churchill, down by the lake at the bottom of a sweep of ground hidden behind some trees.
For me, Chartwell is one of the most wonderful places I visit. When I was a head teacher, I would welcome the chance to visit when things were tough at school. It has serenity about it yet, because it was the home of one of the most amazing men of the twentieth century, it has a strength & determined atmosphere as well. Visiting at those times, I always came away refreshed with a sense of 'yes, I could do it' & renewed energy to face the challenges ahead.
Since retiring, I still find its atmosphere gets to me & on a visit during last winter in the snow I couldn't resist sitting between them!
Chartwell is now owned by the National Trust. You can go round the house & see many of the awards & honours he was presented with together with the hundreds of books Churchill wrote & many paintings he did. You can visit his studio which is in the grounds just below the vegetable garden. I suspect it is one of the National Trust's most popular properties especially situated in Kent where so many of their other properties are to be found.
Whether you admired him or loathed him, Churchill certainly made his mark in the history of this country during World War II. Chartwell helps you to see the picture of the man at home & relaxing. Do visit if you can – it is a very special place.
What are your thoughts of Churchill? Hero or egotist?