Aunt Vi!
This is the last week for our Alphabe Rainbow Summer School. That means we are looking at Violet.
For me, Violet is not about a colour but a wonderful person. She was my father's sister which made her my aunt-my only aunt. She was the matriarch of the family & as she had two children with five children between them, family gatherings were quite large!
She was the only girl of four children & had the role of looking after them all. When two of the boys were killed during WWII she made sure that my father was kept safe. This meant that she was inclined to rule him with a rod of iron. Thinking about it, we all stood to attention when she was around!
My parents & I would always go to Auntie Vi's for Christmas lunch. It was tradition, as was the khaki coloured gravy that was poured over the mountain of food on the plates. Apparently, it got its hue via all the vegetable juices that it was made of. In particular, the dried peas that had been soaking over night, added the green element of the artists liquid palette!
Although the invitation was for lunch, I always ended up staying the week together with the other youngsters. I can't tell you what we did during that time. None of the entertainments that now occupy children were available but we did have a great time!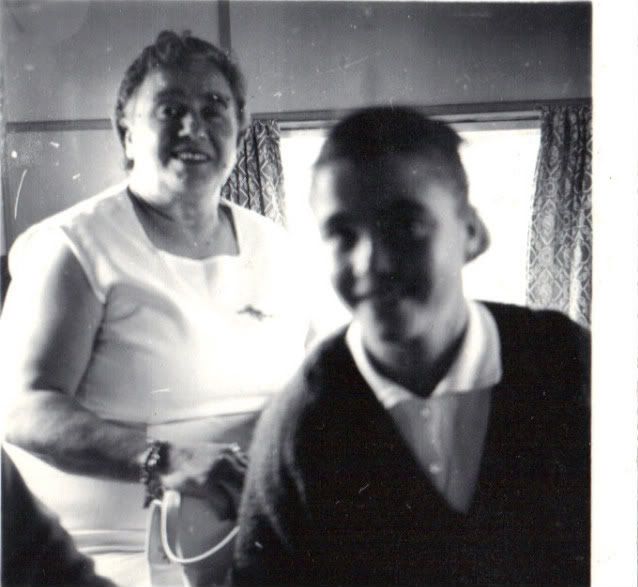 One tradition that I can clearly remember was the one that said you had to be with Auntie Vi as the clock struck midnight on New Year's Eve. Remember that rod of iron I mentioned? Well my parents walked through the snow one year in order to keep that particular tradition! Her tipple was gin, 'go sparingly with the tonic & definitely no ice'! As was the trend, she was also a smoker & proud of it.
This picture is of me as a teenager with my darling Auntie. As you can see, she was a big lady with an even bigger personality. She is my Violet!
Do pop over to Jenny's blog to read about the other Violet posts!